The Complete Technical Requirements for ISO/IEC 17025 2005 (Part – 3)
March 2, 2019
2023-03-28 1:43
The Complete Technical Requirements for ISO/IEC 17025 2005 (Part – 3)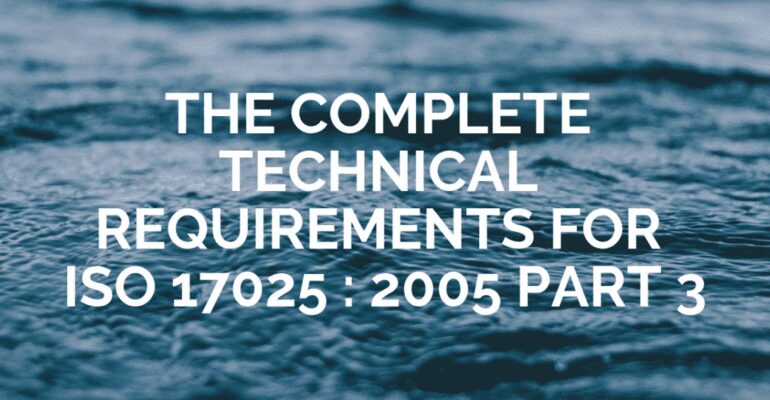 The Complete Technical Requirements for ISO/IEC 17025 2005 (Part – 3)
ISO/IEC 17025 2005 Technical Requirements for Laboratories
As we already know, ISO/IEC 17025 2005 accreditation is an effective marketing tool for testing, measurement and calibration organizations, and an effective tool to submit tenders to contractors that require independently verified laboratories.
Laboratory accreditation or commonly known as the accreditation of ISO/IEC 17025 2005 is highly regarded both nationally and internationally as a reliable indicator of technical competence.
For our readers, we have been describing all the required technical requirements of ISO/IEC 17025 2005 with this series of blogs. The first two parts of this series can be accessed by clicking here.
So, let's continue further with the ISO/IEC 17025 2005 technical requirements.
Equipment
Laboratory equipment, that is performing well and properly maintained, is essential for the ongoing accuracy of test and calibration results.
The following chapter will deal with the capacity and quality of equipment. This section will make sure that the laboratory instrument is suitable for performing selected calibrations or tests, and is well-calibrated, characterized, and maintained.
The key points are as following:
Equipment should conform to specifications relevant to the tests. The equipment specifications should be defined at first so that it can be confirmed suitably while performing tests.

The proper identification and documentation of equipment and software should be needed.

To meet the laboratory's specification requirements, the equipment should be calibrated and/or checked.

All the records associated with laboratory equipment and its software should be maintained properly and updated if needed.

Calibration status should be indicated properly on the instrument along with the last and the next calibration dates.
Measurement Traceability
The traceability of equipment to the same standard is a prerequisite for the comparability of test and calibration results.
All measurements should be traceable to the International System of Units ideally. While this is typically possible for physical measurements, introducing this to chemical measurements could be difficult.
The calibration of equipment should be traceable to the SI units.

An unbroken link of calibration comparisons between the laboratory standard, primary or national standard and secondary standard should be introduced for the traceability of laboratory standards to SI.

In the scenario of traceability to SI units is not possible, the laboratory should use the other appropriate traceability standards. This will include the use of consensus standards or methods and certified reference material.
Sampling
This chapter will describe the procedure to ensure that statistically relevant representative samples are taken and that all information on the sample and the sampling procedure is recorded and documented.
Key points for the sampling chapter will include:
A documented sampling plan and sampling procedure should be introduced for sampling.

Based on the statistical method, the sampling plan should be introduced.

The sampling procedure should describe the selection and withdrawal of representative samples.

All the relevant information to the sampling process such as the sampling procedure, location, the person who took the sample, should be recorded properly.
Stay in touch with our blog section to get the final technical requirement chapter for ISO/IEC 17025 2005