The Complete Technical Requirements for ISO/IEC 17025:2005 (Part – 2)
March 2, 2019
2023-03-23 1:14
The Complete Technical Requirements for ISO/IEC 17025:2005 (Part – 2)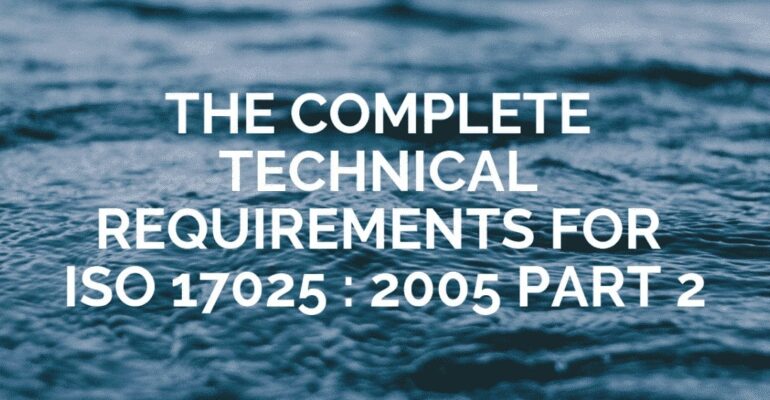 The Complete Technical Requirements for ISO/IEC 17025:2005 (Part – 2)
ISO IEC 17025 2005 technical requirements (Part-2)
This series of blogs has been developed to promote confidence and understanding in ISO/IEC 17025:2005. This document contains the crucial technical requirements for laboratories to enable them to demonstrate they operate competently, and can generate quality results.
This article will further explain the technical actions require from the laboratory to address risks and opportunities.
The first part of the technical requirements of ISO/IEC 17025:2005 can be accessed by clicking here.
Without delay, let's continue with the further technical requirements of ISO 17025 standards.
Test and Calibration Methods and Method Validation (ISO IEC 17025 2005 technical requirements)
With appropriate methods that are validated for the intended use, accurate test and calibration results can be obtained easily. The following phase deals with the selection and validation of laboratory-developed and standard methods and uncertainty of measurement and control of the data.
Key points for the accurate test and calibration results are as following:
There should be scope for methods and procedures. The scopes should be clearly defined.

There should be up-to-date instructions on the use of methods and equipment.

The most recent edition of the standard methods should be used for specific sample tests.

The customer should be reported with deviations from standard methods or from otherwise agreed-upon.

With critical validation experiments, the laboratory should verify its competence to successfully run the standard method.

If standard methods are partly or fully out of the scope of the test requirement, then they should be validated.

Methods, as published in the literature or developed by the laboratory, can be used with proper validation.

A plan should be developed to introduce laboratory-developed methods.

Parameters such as the limit of quantization, the limit of detection, selectivity, linearity, repeatability, accuracy, robustness, and linearity, should be considered for validating in-house developed methods.

Exact validation experiments should be relevant to samples and required information.

Standard and in-house validated methods should be adjusted or changed to ensure continuing performance.

The process validation includes specification of the requirements and scope, determination of the characteristics of the methods, and a statement on validity.
Measurement Uncertainty Key Points (ISO IEC 17025 2005 technical requirements):
There should be a procedure to estimate the laboratory uncertainty of measurement for testing and calibration.

The laboratory should properly identify all the components of uncertainty in the case of uncertainty estimation.

The uncertainty contributing sources can include the methods and equipment used for sampling and testing, the reference materials used, personnel and environmental conditions.
Control of Data Key Points:
The calculations used for data evaluation should be checked properly. This is best done during software and computer system validation.

The computer software used for the data acquisition, instrument control, data transfer, archiving, processing reporting, and retrieval developed by or for a specific user should be validated.

Any modification or configuration of a commercial computer system should be validated.

To ensure the integrity and confidentiality of electronic records, electronic data should be protected properly.