ISO 17025 Accreditation for Testing Laboratories
July 22, 2019
2023-03-28 7:32
ISO 17025 Accreditation for Testing Laboratories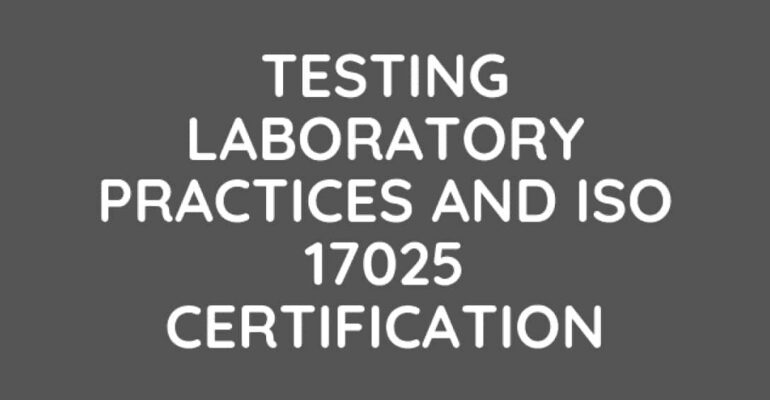 ISO 17025 Accreditation for Testing Laboratories
As an internationally recognized quality standard, ISO 17025 accreditation can magnify a laboratory's client base. In this way, laboratories can attract more business and increase profitability.
Testing and calibration laboratories need to keep strict quality control, professional and qualified staff, and appropriate documentation.
They must follow strict guidelines for sampling identification, testing, analysis, labeling, and documentation.
Two Main Clauses of ISO 17025
Management Requirements
The management requirements are the same as in ISO 9001:2000. Hence, an ISO 17025 certified calibration and testing lab will also function in compliance with ISO 9001:2000.
Management requirements emphasize the effectiveness of a laboratory's Quality Management System (QMS).
Technical Requirements
The technical requirements refer to the operations of a laboratory. It covers equipment, testing, reporting of tests and calibrations, and staff competency.
ISO 17025 needs extensive documentation, the development of a detailed quality system, and the creation of a quality manual.
This extensive documentation system would require the time and effort of the laboratory staff, calibration personnel, and top management.
Therefore, a laboratory must evaluate whether the ISO 17025 certification process benefits the time and costs involved.
Five Key Clauses of ISO 17025:
Scope

– It covers a laboratory's technical operations. It includes a QMS, which guarantees that the laboratory is operating in a quality manner.

Normative References

– This section follows ISO 9001:2000 requirements.

Terms and Definitions

– This section follows ISO 9001:2000 requirements.

Management Requirements

– This part entails document control, documentation, internal audit, and corrective action.

Technical Requirements

– Most of these come from the ISO Guide 25. This part encompasses personnel, method selection, validation of methods, estimation of method uncertainty, and measurement traceability.
ISO 17025 Certification Process
Laboratories can decide whether to accomplish the phases in-house or employ a consultant to handle the certification process.
But first, a laboratory must have a comprehensive understanding of ISO 17025 accreditation.
Only then can a laboratory perform a gap analysis to establish its current stage of compliance with the standard's requirements.
Most laboratories already fulfill rigorous technical requirements. However, some may be lacking in the management quality system components such as documentation and document control.
Furthermore, the laboratory will use the gap analysis results as a basis for the creation of a quality plan and implementation strategy.
When the standard requirements are satisfied, an internal audit will decide if there are still gaps in the quality system.
If there's none, the laboratory can contact an ISO 17025 registrar who will execute an independent certification audit.
Benefits of ISO 17025 accreditation
The main reward of the standard is the recognition in the testing and calibration laboratory sector as an ISO 17025 certified facility.
Consequently, the certification provides a competitive advantage over competitors who are not certified in an internationally accepted quality system.
Moreover, the certification process helps laboratories document procedures and processes within a QMS.
An ISO 17025 certified facility can then improve both the technical and management aspects of the company.
When there's continuous improvement, there's also better customer service and higher customer satisfaction.
Finally, the ISO 17025 certification serves as an internal audit process to identify non-conformance to standards. It also gives a process for corrective action, as well as updating the quality system to the new quality standards.
Your laboratory can gain all these benefits. As mentioned, your business must first have a thorough understanding of the standard.
Let QSE Academy help. Our toolkits and packages provide relevant information about ISO 17025.
We have also included useful documentation templates and files, so your laboratory can attain ISO 17025 certification.