The Rewards of ISO 17025 Accreditation to Laboratories
July 4, 2019
2023-10-23 12:57
The Rewards of ISO 17025 Accreditation to Laboratories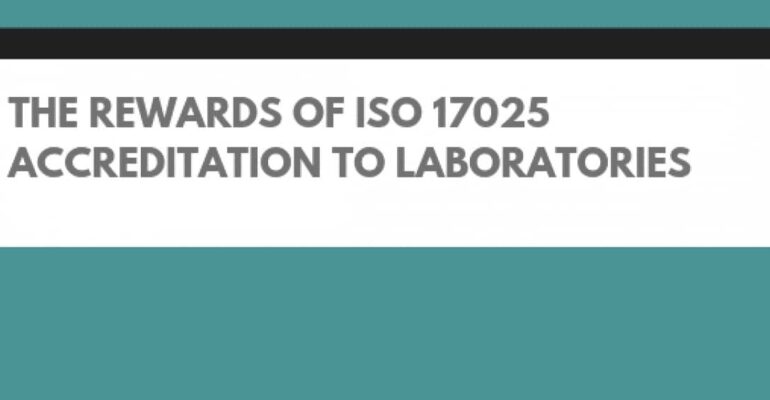 The Rewards of ISO 17025 Accreditation to Laboratories
As QSE Academy explained in previous articles, ISO 17025 enables laboratories to show competency in operating laboratories, thereby promoting confidence in their outputs and work.
Hence, management and technical quality improvements deliver practical benefits in the daily work of laboratories.
Likewise, implementing an effective quality system results in increased laboratory business.
This alone guarantees:
improved customer satisfaction;

faster identification and resolution of issues about methods, personnel or equipment;

meeting quality requirements of specialized customers;
What Are the Major Benefits of ISO 17025 Accreditation?
Benchmark of Performance
ISO 17025 accreditation allows laboratories to identify whether they are doing their work correctly. It also determines whether the work is appropriate for standards.
As a result, laboratories get a guideline for maintaining that competence.
On the other hand, manufacturing organizations may use a laboratory's ISO 17025 accreditation to make sure their in-house laboratories execute properly the testing of their products.
Besides, an accreditation body can:
Perform a regular assessment, which evaluates all facets of a laboratory's operations that are associated with constantly creating precise and reliable information.

Pinpoint areas for improvement.

Monitor a follow-up or appropriate corrective action.
Systematic Processes and Procedures
ISO 17025 accreditation ensures a laboratory has a systematic approach to manage all its processes. It also guarantees well-defined procedures and supporting documentation.
Furthermore, a systemic approach increases confidence in testing or calibration of data, as well as personnel performing work.
It also ensures control of laboratory methods variation. Similarly, the accreditation certifies calibration, suitability, and maintenance of test equipment and testing environment.
Improved Quality
First, ISO 17025 promotes improved quality awareness among employees. Consequently, there are reduced scraps, faults, rework failures, and service recovery.
Second, there's enhanced control of laboratory operations. This also leads to greater feedback to laboratories as to whether they are technically competent by having a sound Quality Assurance System.
In relation, ISO 17025 accreditation leads to the appropriateness and validity of test methods. This covers the sampling, handling, and transportation of test items, as well as quality assurance of test and calibration data.
Recognition of Testing Competence
ISO 17025 accreditation bestows formal recognition to competent laboratories. Subsequently, it enables clients to find and handpick dependable testing, measurement, and calibration services.
Note that accreditation bodies must re-evaluate laboratories to guarantee unrelenting compliance with requirements. This also aims to track whether laboratories retain their standard of operation.
Moreover, laboratories are obliged to take part in significant proficiency testing programs between reassessments and further demonstration of technical competence.
Accredited laboratories issue test or calibration reports that show the accreditation body's symbol or endorsement.
In this way, customers can check with the laboratory on what certain measurements or tests they are accredited for, and for what uncertainties or ranges.
Enhanced Corporate Image and New Businesses Opportunities
ISO 170215 accreditation forms a better corporate image in the eyes of clients, employees, stakeholders, regulators, and the public.
Therefore, there's a potential increase in business because of heightened customer confidence and satisfaction.
Operational Cost Savings
Laboratories that earn ISO 17025 accreditation save both money and time due to the reduction or removal of product re-testing.
Marketing Advantage
ISO 17025 accreditation is a powerful marketing tool for testing, calibration, and measurement laboratories. It can serve as a bridge in presenting tenders to contractors that need autonomously verified laboratories.
Likewise, laboratory accreditation uses procedures and criteria explicitly formulated to establish technical competence. In this way, laboratories assure clients that their test, calibration, and measurement results are accurate and reliable.
This makes traceability of measurements and calibrations adhere to national standards. Thus, accreditation is highly well-known both nationally and internationally as a trustworthy criterion of technical competence.
Additionally, accreditation bodies publish a directory of their accredited laboratories, which includes the contact details and testing competencies.
Global Recognition
Accredited laboratories obtain a form of international recognition through a system of international agreements.
This enables a laboratory's data to be more readily accepted in overseas markets. Similarly, accredited laboratories attain international recognition of their technical competence.
Therefore, ISO 17025 accredited laboratories gain the confidence of customers and interested parties. They also achieve the capacity to open doors to new markets both nationally and globally.
ISO 17025 contains general requirements in ensuring competency in laboratories. A laboratory must then go through every necessary paperwork and process.
To make sure your laboratory gets a head start, QSE Academy already prepared toolkits where you can get the essential documents, as well as detailed instructions to work on.