Why Small Businesses Can't Afford to Ignore ISO 9001: The Benefits and Your Ultimate ISO Guide
March 21, 2023
2023-03-28 1:00
Why Small Businesses Can't Afford to Ignore ISO 9001: The Benefits and Your Ultimate ISO Guide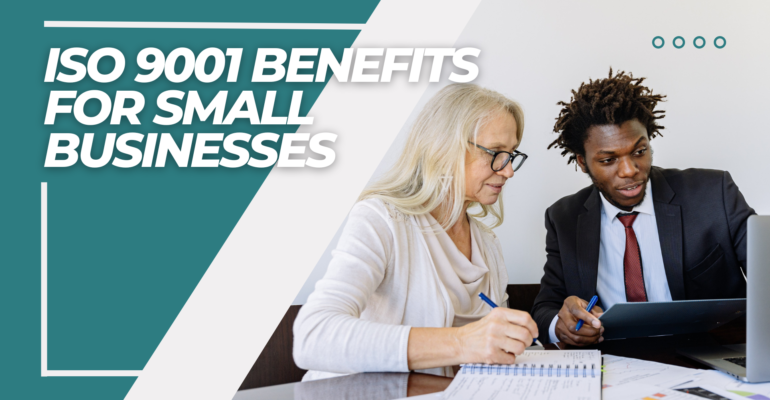 Why Small Businesses Can't Afford to Ignore ISO 9001: The Benefits and Your Ultimate ISO Guide
Have you ever wondered if ISO 9001 certification is worth the investment for your small business? As a quality manager or business owner, you may have heard about the numerous benefits of implementing a Quality Management System (QMS). But are these benefits relevant to your small business? The answer is a resounding YES! In this entertaining blog post, I'll discuss the advantages of ISO 9001 for small businesses and share a ISO guide to help you on your journey to certification.
The Benefits of ISO 9001 to Small Businesses
Enhanced Customer Satisfaction
Customer satisfaction is crucial for any business, but it's even more important for small businesses where word-of-mouth plays a vital role in attracting new clients. ISO 9001 helps you establish processes to better understand and meet customer requirements, ultimately resulting in happier customers who are more likely to recommend your business.
Improved Efficiency and Productivity
ISO 9001 certification ensures that your business processes are standardized and optimized, leading to increased efficiency and productivity. By identifying areas of waste and implementing continuous improvement initiatives, you can reduce costs and improve overall performance.
Streamlined Supplier Relationships
A robust QMS can help you manage supplier relationships more effectively by setting clear expectations and evaluating their performance. As a result, you can foster stronger partnerships, minimize risks, and ensure that your suppliers meet your quality requirements.
Greater Market Access
ISO 9001 certification is recognized worldwide as a symbol of quality, giving your small business a competitive edge in the marketplace. Potential clients and partners will view your company as more credible and trustworthy, opening up new opportunities for growth and expansion.
Employee Engagement and Retention
When employees feel engaged and empowered, they are more likely to stay with your company and contribute to its success. Implementing a QMS can improve communication, provide clear roles and responsibilities, and create a culture of continuous improvement that encourages employees to take ownership of their work.
Better Decision-Making
ISO 9001 emphasizes evidence-based decision-making, which means your business decisions will be driven by accurate and reliable data. This approach helps you make more informed choices that align with your organization's strategic goals, leading to better outcomes and increased profitability.
Enhanced Reputation and Brand Image
Achieving ISO 9001 certification can significantly boost your company's reputation and brand image. The certification demonstrates your commitment to quality and continuous improvement, which can generate positive publicity and attract new customers who value high-quality products and services.
Easier Compliance with Regulatory Requirements
A well-structured QMS can simplify the process of complying with industry-specific regulations and standards. By integrating these requirements into your QMS, you can ensure that your business stays up to date with the latest regulatory changes and avoids costly non-compliance issues.
Reduced Risk and Greater Resilience
Implementing a QMS helps you identify and manage potential risks that could negatively impact your business. By incorporating risk-based thinking into your processes, you can better anticipate and mitigate potential problems, resulting in a more resilient and adaptable organization.
Continuous Improvement Culture
One of the core principles of ISO 9001 is the focus on continuous improvement. By fostering a culture where employees are encouraged to identify and address areas for improvement, your small business can achieve ongoing success and stay ahead of the competition.
A Step-by-Step ISO Guide for Smooth Certification Process
Now, let's look at an example of how ISO 9001 certification has transformed a small business. Acme Manufacturing, a family-owned business in the Midwest, decided to pursue ISO 9001 certification to remain competitive in its industry. After implementing a QMS, they experienced a 15% reduction in production waste, improved customer satisfaction rates, and secured several new contracts as a direct result of their certification. This example demonstrates the power of ISO 9001 in driving tangible benefits for small businesses.
To help you navigate the ISO 9001 certification process, I've created a step-by-step ISO guide specifically tailored for small businesses:
Step 1: Obtain Top Management Commitment
It's essential to have the full support and commitment of your top management team. They should be actively involved in the implementation process, setting objectives, and allocating resources to ensure the success of their QMS.
Step 2: Appoint a Dedicated ISO Representative
Designate a knowledgeable and skilled individual to lead the ISO 9001 implementation project. This person will be responsible for coordinating efforts, providing training, and serving as the primary point of contact for auditors.
Step 3: Understand ISO 9001 Requirements
Before starting the implementation process, take the time to familiarize yourself with the ISO 9001 standard and its requirements. This will give you a solid foundation for developing a QMS that meets the necessary criteria.
Step 4: Perform a Gap Analysis
Conduct a gap analysis to identify areas where your current practices and processes do not meet ISO 9001 requirements. This assessment will help you prioritize your implementation efforts and focus on the most critical areas for improvement.
Step 5: Develop and Document Your QMS
Develop a QMS that meets the requirements of ISO 9001 and addresses the gaps identified during your gap analysis. Document your QMS, including policies, procedures, and work instructions, to provide a clear roadmap for employees to follow.
Step 6: Implement Your QMS and Train Employees
Implement your QMS across your organization and ensure that employees are trained on the new processes and procedures. Training should be tailored to each employee's role and responsibilities, and ongoing refresher training should be provided as needed.
Step 7: Conduct Internal Audits
Regular internal audits are essential to ensure your QMS remains compliant with ISO 9001 requirements and continues to drive improvement. Train internal auditors to perform audits and identify areas for improvement, as well as verify the effectiveness of corrective actions taken.
Step 8: Address Nonconformities and Opportunities for Improvement
Analyze the results of your internal audits and take appropriate corrective actions to address any non-conformities. Additionally, identify and prioritize opportunities for improvement and implement changes to enhance your QMS.
Step 9: Undergo External Certification Audit
Once you're confident that your QMS meets ISO 9001 requirements and has been effectively implemented throughout your organization, it's time to undergo an external certification audit. Hire a reputable, accredited certification body to conduct the audit and evaluate your QMS's compliance with the standard.
Step 10: Maintain and Continuously Improve Your QMS
After achieving ISO 9001 certification, your work is not done. It's essential to maintain and continuously improve your QMS to ensure ongoing compliance and to drive further improvements in your organization. This includes regular internal audits, management reviews, and updates to your QMS based on lessons learned and changes in your business environment.
In conclusion, ISO 9001 certification offers a wide range of benefits for small businesses, from improved efficiency and cost savings to enhanced reputation and customer satisfaction. By following the steps outlined in this ISO guide and seeking expert guidance when necessary, you can successfully implement a QMS and achieve certification, setting your small business on a path to sustainable success.
If you're ready to take your small business to the next level with ISO 9001 certification, don't hesitate to reach out for my "QSE Academy" ISO small business documentation preparation service. With my 15 years of experience in the consulting business, I can provide you with the support and expertise needed to navigate the certification process with ease. Contact me today to get started on your ISO small business journey!
Now, I'd love to hear from you: what has been your experience with ISO 9001 certification in your small business? Do you have any tips or insights to share with other quality managers and business owners? Leave a comment below, and let's start a conversation!