Decoding the Time Frame for ISO 9001 Cost Certification: A Comprehensive Guide
March 22, 2023
2023-03-28 1:10
Decoding the Time Frame for ISO 9001 Cost Certification: A Comprehensive Guide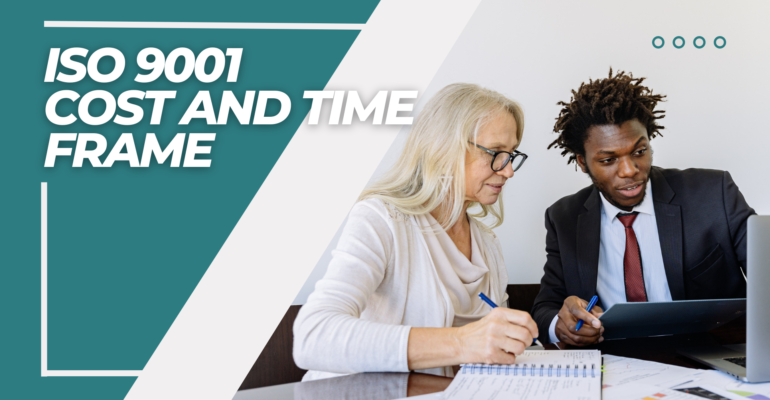 Decoding the Time Frame for ISO 9001 Cost Certification: A Comprehensive Guide
Are you thinking about pursuing ISO 9001 cost certification for your business? If so, you're likely wondering about the costs and time frame associated with the process. Well, you're in the right place! In this entertaining blog post, I'll guide you through the various factors that can impact the cost and duration of achieving ISO 9001 certification. Let's dive in!
Understanding ISO 9001 Cost Certification
The cost of ISO 9001 certification can vary greatly depending on several factors, including the size of your organization, the complexity of your processes, and the current maturity of your quality management system (QMS). To give you a better understanding of the costs involved, let's break them down into the following categories:
Internal Costs
These are the costs you'll incur within your organization while implementing and maintaining your QMS. They can include:
a. Personnel costs:
Time spent by your employees working on ISO 9001-related tasks, such as process documentation, training, and internal audits. b. Training costs: Expenses related to training your staff on ISO 9001 requirements and best practices. c. Infrastructure and equipment costs: Any investments needed to upgrade your facilities or equipment to meet ISO 9001 requirements.
External Costs
These costs are associated with hiring outside resources to assist with your ISO 9001 implementation and certification. They can include:
a. Consultant fees:
The cost of hiring an experienced ISO 9001 consultant, like myself, to guide you through the process and provide expert advice. b. Certification body fees: The fees charged by an accredited certification body to conduct the certification audit and issue your ISO 9001 certificate. c. Ongoing certification costs: Fees for surveillance audits and certificate renewals, typically required every three years.
To provide a real-life example, let's consider the case of XYZ Manufacturing, a small manufacturing company based in the USA. They decided to pursue ISO 9001 certification and hired an ISO 9001 consultant for guidance. Their total costs, including internal and external expenses, amounted to approximately $30,000. This figure includes consultant fees, training costs, certification body fees, and minor equipment upgrades.
Of course, your organization's costs may differ, depending on your unique circumstances. To get a more accurate estimate, it's best to consult with an experienced ISO 9001 professional.
The Time Frame for ISO 9001 Certification
Similar to the costs, the time frame for achieving ISO 9001 certification can also vary widely. Factors influencing the duration include the size of your organization, the complexity of your processes, and your QMS's current maturity level. Generally, the process can take anywhere from 6 to 18 months, with smaller organizations typically requiring less time than larger ones.
Here's a general outline of the ISO 9001 certification time frame:
Preparation and Planning (1-3 months)
During this phase, you'll establish your project team, set objectives, and develop a project plan. You'll also conduct a gap analysis to identify areas where your QMS needs improvement.
Implementation (3-12 months)
In this phase, you'll update or develop the necessary documentation, implement the required processes, and train your staff. The duration of this phase will depend on the complexity of your organization and the changes needed to meet ISO 9001 requirements.
Internal Audit and Management Review (1-2 months)
Once your QMS is fully implemented, you'll conduct an internal audit to assess compliance with ISO 9001 and identify any areas requiring corrective action. You'll also hold a management review meeting to evaluate the effectiveness of your QMS and make any necessary adjustments.
Certification Audit (1-2 months)
After addressing any issues identified during the internal audit and management review, you'll engage an accredited certification body to conduct the certification audit. This process typically consists of two stages:
Stage 1 Audit:
The auditor will review your documentation and ensure your organization is prepared for the full audit.
Stage 2 Audit:
The auditor will visit your facility and assess your QMS's implementation and effectiveness in meeting ISO 9001 requirements.
If the auditor identifies any nonconformities during the Stage 2 Audit, you'll need to address them before receiving your ISO 9001 certificate. Once the certification body is satisfied that your organization meets the standard's requirements, they'll issue your ISO 9001 certificate.
Ongoing Maintenance and Surveillance Audits (Annually)
To maintain your ISO 9001 certification, you'll need to conduct internal audits, and management reviews, and address any nonconformities on an ongoing basis. Additionally, your certification body will perform surveillance audits (usually annually) to ensure continued compliance with the standard. Every three years, you'll also need to undergo a recertification audit to renew your ISO 9001 certificate.
In the case of XYZ Manufacturing, their ISO 9001 certification journey took approximately 12 months from start to finish. They successfully navigated the process with the help of their consultant and achieved certification within their target time frame.
Factors Affecting ISO 9001 Cost Certification and Time Frame
Several factors can impact the overall cost and time it takes to achieve ISO 9001 certification. Understanding these factors can help you plan more effectively and manage your expectations.
Company Size and Complexity
The size and complexity of your organization will significantly impact the time and cost required for ISO 9001 certification. Larger organizations with more employees, multiple locations, or complex processes will require more time and resources to implement a QMS and complete the certification process.
Existing Quality Management System
If your organization already has a QMS in place, aligning it with ISO 9001 requirements might be quicker and more cost-effective. However, if you're starting from scratch, you'll need to invest more time and resources in developing and implementing a QMS that meets the standard's requirements.
External Resources
Hiring an ISO consultant can be beneficial in guiding your organization through the certification process, but it will also add to the overall cost. However, engaging a consultant can save time and help avoid potential pitfalls or delays, making it a valuable investment for many organizations.
Training and Employee Involvement
Training your employees on ISO 9001 requirements and involving them in the implementation process is crucial to the success of your QMS. The more time you invest in training and engaging your employees, the smoother your certification process will be. This investment in training, while essential, can impact your overall certification costs.
Corrective Actions and Nonconformities
The number of corrective actions and nonconformities identified during the internal audit and certification audit will affect the time and cost required for certification. Resolving these issues might involve additional training, process adjustments, or even investments in new equipment or technology.
Cost-saving Tips for ISO 9001 Certification
While ISO 9001 certification can be expensive, there are several ways to reduce costs and make the process more manageable:
Leverage Existing Systems
If you already have a QMS or other management systems in place, build on these foundations to align with ISO 9001 requirements. This approach can save time and resources compared to starting from scratch.
Conduct a Gap Analysis
Perform a gap analysis early in the process to identify areas where your organization falls short of ISO 9001 requirements. Addressing these gaps early can save time and prevent costly delays later in the certification process.
Utilize Free Resources
Many free resources are available to help organizations understand and implement ISO 9001 requirements, such as guidance documents, webinars, and online forums. Take advantage of these resources to learn more about the standard and reduce your reliance on external consultants.
Empower Employees
Engage and empower your employees to take ownership of the QMS implementation process. By involving them in the process and providing adequate training, you can reduce the need for external consultants and foster a culture of continuous improvement.
It's worth noting that the benefits of ISO 9001 certification often outweigh the costs and time investment. By implementing a robust QMS and achieving certification, your organization can improve customer satisfaction, reduce costs, and enhance your reputation in the marketplace.
If you're ready to embark on your ISO 9001 certification journey and need assistance with ISO documentation preparation or guidance, don't hesitate to reach out to me for my "QSE Academy" services. I'm here to help you every step of the way!
Now, I'd love to hear from you. Have you gone through the ISO 9001 certification process? How did you find the costs and time frame? Share your experiences in the comments below, and let's learn from each other's journeys!