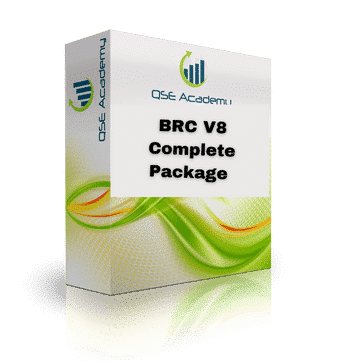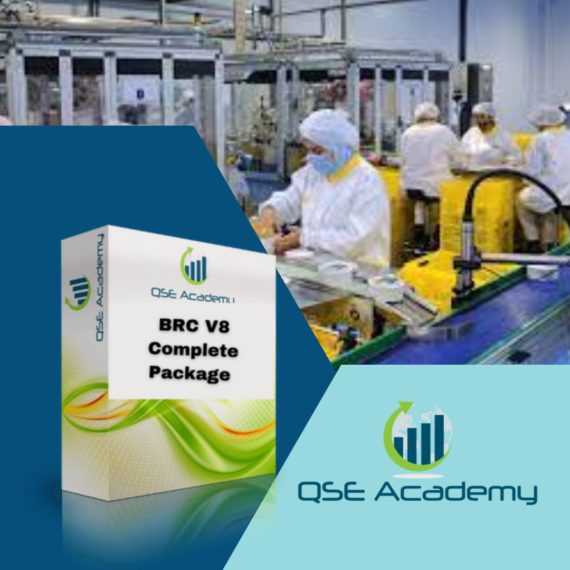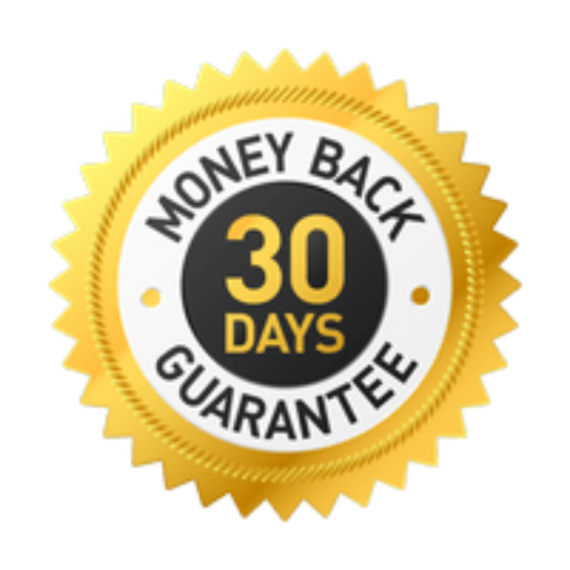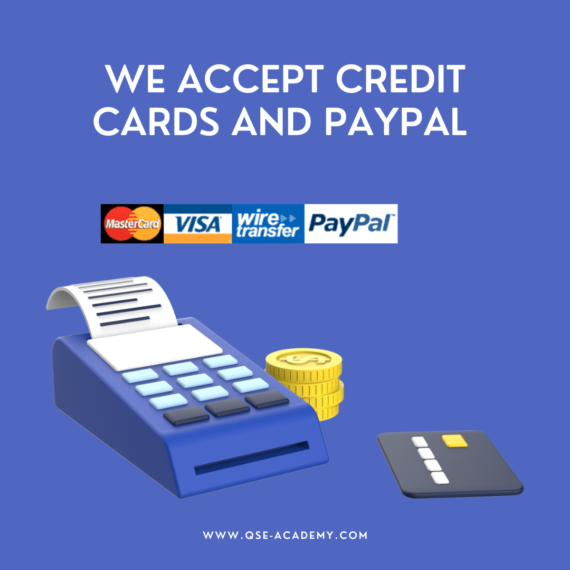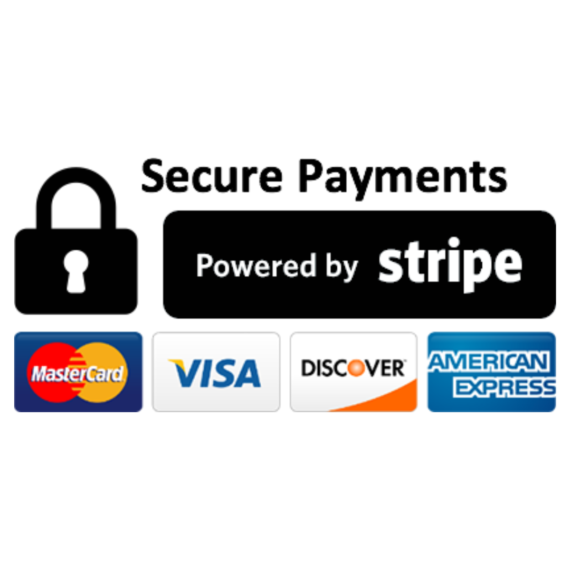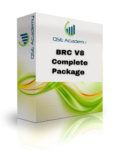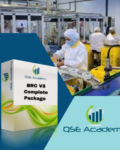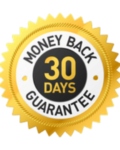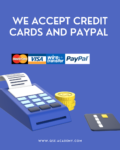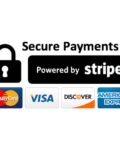 BRC V9 Package
$689-$689
Comply with the latest global certification standard, BRC V8.
Provide assurance for the safety, quality, and legality of your products, services, and processes.
Demonstrate your commitment to excellence by following the requirements for BRC V8.
➡️All the necessary documents for certification.
➡️ 30-day money-back guarantee.
➡️ Immediate download
➡️ 24/7 Supporto Service
➡️ Document types included: Docx, PPT, Excel, PDF
The BRC V9 Documents Package is designed to help organizations meet the requirements of the British Retail Consortium (BRC) Global Standard for Food and Packaging Materials. The standard is widely recognized by major supermarkets, food retailers, and other international markets, giving companies access to global markets. This package contains a comprehensive set of documents that provide guidance on meeting the requirements of the standard. It includes a quality manual, procedures, checklists, forms, and templates which have been designed to help you document your processes and monitor compliance. The documents are easy-to-follow and customizable, making them suitable for any business size or type.
The BRC V9 Documents Package is an invaluable resource for organizations striving to adhere to the British Retail Consortium (BRC) Global Standard for Food and Packaging Materials. With this standard's recognition by leading supermarkets, food retailers, and international markets, companies that successfully implement the BRC V9 standard gain access to a global market, expanding their business opportunities.
This all-inclusive package comprises an extensive set of documents that provide guidance on how to comply with the standard's requirements. The documentation includes a quality manual, detailed procedures, checklists, forms, and customizable templates designed to help you thoroughly document your processes and monitor compliance.
The quality manual serves as the foundation for your BRC V9 compliance efforts. It outlines your organization's commitment to food safety, quality, and regulatory compliance, providing a clear roadmap for implementing the standard. The manual also describes the roles and responsibilities of various personnel, ensuring that everyone in the organization understands their part in maintaining high food safety and quality standards.
Procedures are the backbone of any effective food safety management system. This package contains procedures covering all aspects of the BRC V9 standard, from hazard analysis and risk assessment to supplier management and product recall processes. These procedures help your organization establish and maintain a robust food safety and quality management system that meets the requirements of the BRC V9 standard.
Checklists are essential tools for ensuring that all necessary steps are taken during the implementation and ongoing maintenance of the BRC V9 standard. The package includes checklists for internal audits, management reviews, and other essential activities that help you identify gaps and areas for improvement, fostering a continuous improvement culture within your organization.
Forms and templates provided in the package are designed to streamline the documentation process, making it easy for your organization to demonstrate compliance with the BRC V9 standard. These customizable documents cover various topics such as process control, product specifications, and corrective actions, enabling you to adapt them to your specific needs and requirements.
The BRC V9 Documents Package is easy-to-follow and adaptable, ensuring that organizations of any size or type can successfully implement the BRC V9 standard. The comprehensive set of documents simplifies the process of achieving compliance with the standard, allowing your organization to focus on maintaining the highest levels of food safety and quality. By implementing the BRC V9 standard, your organization can confidently showcase its commitment to food safety, quality, and regulatory compliance, gaining a competitive edge in the global market.
In summary, the BRC V9 Documents Package is a must-have resource for any organization looking to achieve compliance with the BRC Global Standard for Food and Packaging Materials. With its extensive documentation, customizable templates, and user-friendly format, this package will guide you through the process of implementing and maintaining a robust food safety management system that meets the BRC V9 standard requirements, opening doors to global markets and enhancing your organization's reputation for food safety and quality excellence.
👉

Questo pacchetto vi aiuterà:
Garantire compliance with BRC packaging standards
Prepare for regular audits conducted by certification bodies
Create an effective system to track product safety and quality
Develop reliable documentation that meets the necessary requirements
Provide clear guidance to personnel on how to demonstrate compliance
Reduce operational costs associated with non-compliance
👉

A chi è rivolto questo pacchetto:
The BRC V9 Documents Package is designed for:
Packaging manufacturers and suppliers need to demonstrate compliance with the BRC Global Standard for Packaging and Food.
Business owners who want to ensure their products meet quality standards required by major supermarkets, food retailers, and international markets.
Auditors and consultants who specialize in helping organizations develop effective systems of packaging and product safety management.
Quality assurance personnel responsible for implementing a system that meets regulatory requirements.
👉

Quali sono i risultati previsti?
Gain a comprehensive understanding of the BRC Global Standard
Develop an effective tracking system to monitor product safety and quality

Create reliable documentation tailored specifically to your organization's needs

Ensure compliance with all relevant packaging regulations
Minimize the risk of non-compliance associated costs and penalties
Improve business reputation and access to global markets.
| | |
| --- | --- |
| Lingua | English, Italian, German, Swedish, Portuguese, Chinese, Japanese |
Domande frequenti
Quanti utenti possono accedere a questo pacchetto?
Questo pacchetto può essere utilizzato da tutte le persone che lavorano nella stessa azienda, indipendentemente dalla loro posizione o dal loro reparto. Offre una suite completa di soluzioni che aiutano a snellire i processi e le procedure, aumentando al contempo la produttività e l'efficienza. Con questo pacchetto, fino a 50 utenti possono collaborare in tempo reale, condividendo dati importanti in modo rapido ed efficiente.
Esiste una versione del pacchetto disponibile in altre lingue?
Yes, there are versions of the package available in several other languages. In addition to Italian, German, Portuguese, Swedish, and Japanese, Chinese is also offered. For those looking to use the package in a language other than English, this gives them a great option. If you have any queries, please contact us on the chat or send an email to support@qse-academy.com
Esiste una garanzia di rimborso se non sono soddisfatto del servizio?
Se non siete completamente soddisfatti del prodotto o del servizio fornito, vi offriamo una Garanzia di rimborso di 30 giorni! Forniamo un'opzione sicura e priva di rischi, in modo che possiate sentirvi sicuri della vostra decisione di utilizzare il nostro servizio. Siamo consapevoli che a volte le cose non vanno come previsto e quindi vogliamo darvi l'opportunità di un rimborso.
Quali sono le opzioni di pagamento disponibili?
Sono disponibili diverse opzioni di pagamento. Potete scegliere di pagare con credito scheda, addebito scheda, o PayPal. Offriamo anche un comodo piano di pagamento a rate per coloro che desiderano pagare il proprio acquisto nel tempo. Se avete domande sulle nostre opzioni di pagamento, non esitate a contattarci.
Quando ordino, quanto tempo ci vorrà prima di ricevere l'intero pacchetto di documenti?
Il vostro acquisto vi porterà direttamente alla pagina di download e un link per ottenere il vostro file verrà immediatamente inviato alla vostra casella di posta elettronica. I documenti vengono forniti in una cartella .zip sicura che deve essere estratta. In caso di difficoltà nel download, vi preghiamo di contattare l'indirizzo support@qse-academy.com - il nostro team sarà più che felice di aiutarvi!
Documenti
👉 Questo pacchetto offre le seguenti funzioni:
Completo durata della vita accesso

Access on laptop, desktop, o mobile

Certificato di completamento
👉 Questo pacchetto comprende
Procedure:

Quality Management System Procedure

Management Responsibility Procedure

Food Safety Plan Procedure (HACCP)

Hazard Analysis Procedure

Food Defense Plan Procedure

Food Fraud Mitigation Procedure

Allergen Management Procedure

Product Development Procedure

Supplier Approval and Monitoring Procedure

Internal Audit Procedure

Non-Conforming Product Procedure

Corrective and Preventive Action Procedure

Control of Documents and Records Procedure

Training and Competence Procedure

Traceability Procedure

Validation and Verification Procedure

Complaint Handling Procedure

Product Recall Procedure

Product Withdrawal Procedure

Incident Management Procedure

Calibration and Maintenance Procedure

Pest Control Procedure

Hygiene and Cleaning Procedure

Environmental Monitoring Procedure

Waste Management Procedure

Storage and Distribution Procedure

Labeling and Packaging Procedure

Equipment and Utensil Management Procedure

Records and Forms:

HACCP Team Meeting Record

Hazard Analysis Worksheet

CCP Decision Tree Worksheet

HACCP Plan Summary

Food Defense Assessment Form

Food Fraud Vulnerability Assessment Form

Allergen Risk Assessment Form

Supplier Evaluation and Approval Form

Programma di audit interno

Internal Audit Report

Non-Conformance Report

Corrective Action Request

Training Record

Traceability Test Record

Validation and Verification Record

Customer Complaint Log

Product Recall Log

Incident Report

Calibration Record

Maintenance Log

Pest Control Inspection Report

Cleaning Schedule and Record

Environmental Monitoring Record

Waste Disposal Record

Storage and Distribution Record

Label Approval Form

Equipment and Utensil Log

Manual:

BRC V9 Quality and Food Safety Management System Manual


Others:

Site Map and Process Flow Diagrams

Organizational Chart

Job Descriptions

BRC V9 Gap Analysis Tool

Risk Assessment
      SOPs:
SOP for Raw Material Receiving

SOP for Storage of Raw Materials

SOP for Handling and Storage of Packaging Materials

SOP for Pre-Operational Inspection and Cleaning

SOP for Personal Hygiene and GMPs

SOP for Hand Washing and Sanitizing

SOP for Temperature Control and Monitoring

SOP for Product Inspection and Testing

SOP for In-Process Quality Control

SOP for Finished Product Release

SOP for Cleaning and Sanitizing Equipment

SOP for Allergen Control and Cross-Contact Prevention

SOP for Foreign Material Control

SOP for Product Identification and Traceability

SOP for Glass and Brittle Plastic Control

SOP for Maintenance and Repair

SOP for Pest Management

SOP for Water Quality Monitoring and Control

SOP for Air Quality Monitoring and Control

SOP for Waste Handling and Disposal

SOP for Emergency Procedures

SOP for Shipping and Receiving
Esperti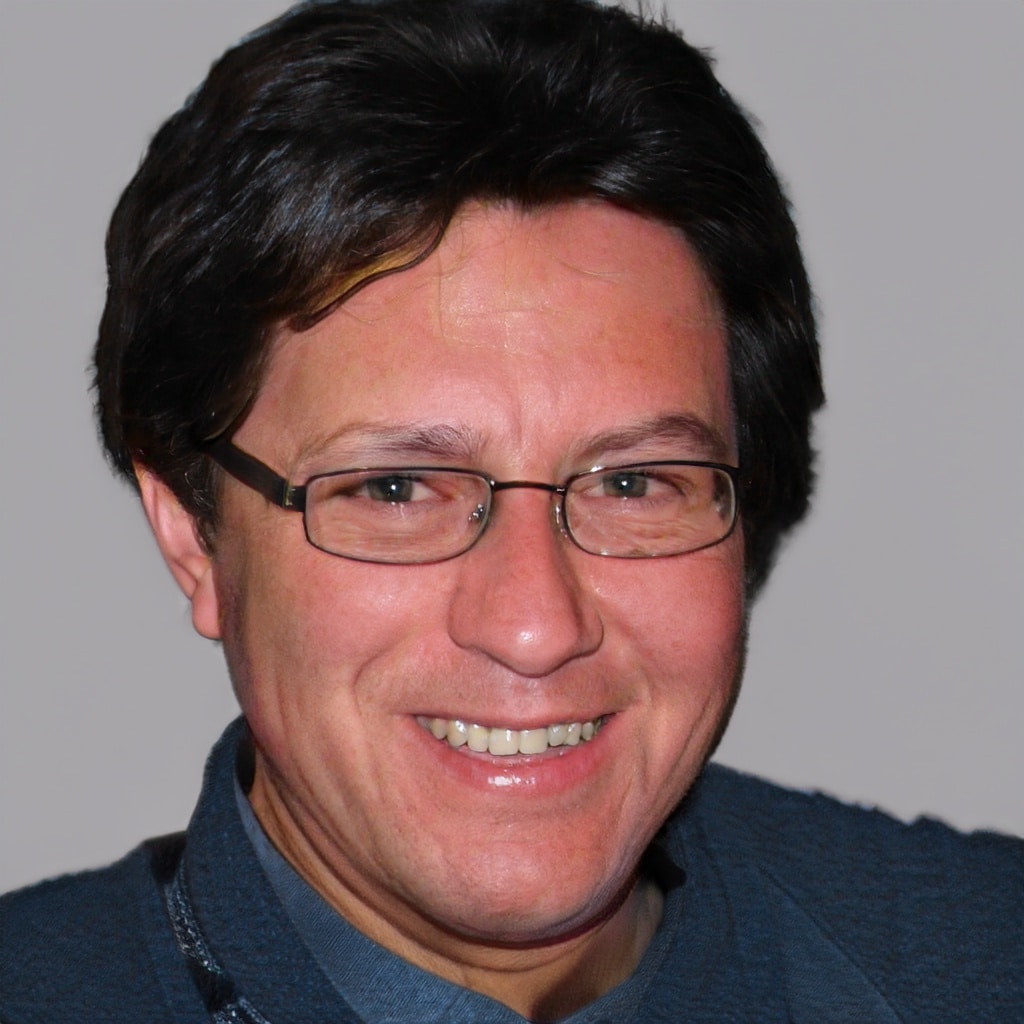 Vi presentiamo Robert M., il leader esperto che sta dietro al nostro successo negli standard di sicurezza alimentare. Con decenni di esperienza in HACCP, FSSC 22000, IFS e BRC, Robert è un'autorità ben rispettata nel settore. Il suo impressionante curriculum si estende a diversi settori, avendo lavorato con una serie di aziende Fortune 500 e di piccole imprese. In qualità di consulente di grande esperienza, ha fornito consigli preziosi a innumerevoli organizzazioni che desiderano implementare o mantenere i propri sistemi di sicurezza alimentare. L'immensa conoscenza e competenza di Robert lo rendono una risorsa indispensabile per tutto ciò che riguarda gli standard di sicurezza alimentare come HACCP, FSSC 22000, IFS e BRC.
Ciò che distingue Robert dagli altri professionisti è il suo impegno a rimanere aggiornato sugli ultimi sviluppi del settore. È costantemente alla ricerca di nuove tendenze e tecniche e trova il modo di incorporarle nei suoi servizi di consulenza. Inoltre, si preoccupa di fornire soluzioni personalizzate in base alle esigenze e ai requisiti unici di ciascun cliente. La sua capacità di comprendere il loro contesto specifico rende le sue soluzioni molto efficaci ed efficienti quando arriva il momento di metterle in pratica.
Soprattutto, Robert si sforza di aiutare ogni organizzazione a raggiungere i propri obiettivi, fornendo la migliore consulenza di qualità basata su anni di esperienza nel settore. Lavora a stretto contatto con i clienti in ogni fase del processo, dalla progettazione all'implementazione, assicurandosi che ottengano il massimo valore dai loro investimenti in ogni momento. Che siate alle prime armi o che abbiate a che fare con gli standard di sicurezza alimentare già da tempo, il patrimonio di conoscenze di Robert vi fornirà una visione preziosa per raggiungere il successo.
👉 Sei interessato a metterti in contatto con Robert?
Saremo lieti di discutere come possiamo aiutarvi. Non esitate a contattarci via e-mail all'indirizzo support@qse-academy.com e saremo lieti di rispondere a tutte le vostre domande. Se necessario, potete anche usufruire della nostra assistenza via chat 24 ore su 24, 7 giorni su 7. Non vediamo l'ora di lavorare con voi!
👉 Collegamenti rapidi
Chi siamo: https://www.qse-academy.com/about-us
Contattateci: https://www.qse-academy.com/contact-us
Youtube: https://www.youtube.com/channel/UC_KlYmnVuAFDrJzmGxdNp1g
Facebook: https://www.facebook.com/QSEAcademy
Prenota una consulenza gratuita: https://www.qse-academy.com/live-iso-consultation
Grazie per l'interesse dimostrato nei confronti di QSE Academy e dei suoi servizi! Ci auguriamo di sentirvi presto! Non esitate a contattarci se avete altre domande o richieste - siamo qui per aiutarvi!