The Management Requirements for ISO 17025:2005 – Part 2
March 2, 2019
2023-03-17 0:56
The Management Requirements for ISO 17025:2005 – Part 2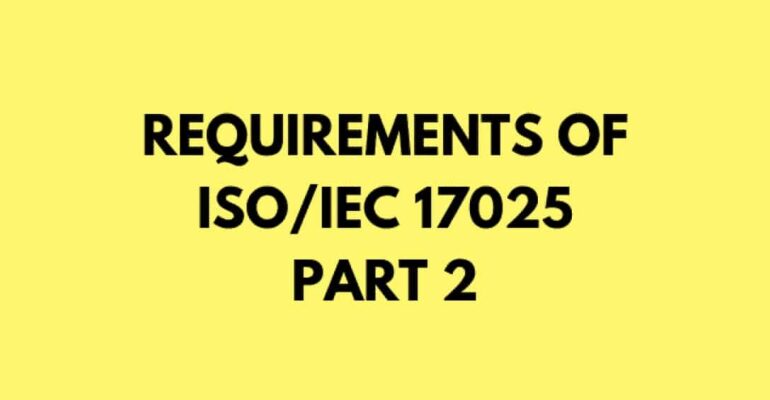 The Management Requirements for ISO 17025:2005 – Part 2
ISO 17025 2005 Requirements
As we have already discussed the cruciality of ISO 17025:2005 and also a few of the management requirements of this standard in the first blog of this thread, this will be the continuation of other management requirements for your acknowledgment.
If you have missed the first section of the management requirements for ISO 17025:2005, you can click here to read it completely. Let's start with other required management standards for ISO 17025:2005.
Purchasing Services and Supplies
The following chapter of ISO 17025:2005 will describe how the services and supplies delivered by third parties must not adversely impact the quality and effectiveness of laboratory operations.
Third-party suppliers must be selected and formally evaluated to ensure that supplies and services are of adequate quality.

A predefined specification must be in place to verify the quality of incoming materials.

The records of the selection and evaluation process should be documented and maintained properly.
Service to the Customer
The process for laboratories to continuously meet customer requirements is mentioned below.
The laboratories should communicate with customers to clarify requests satisfactorily and get customer input.

Customers should be allowed by the laboratory to audit the laboratory.

A formal program should be introduced by the laboratory to collect feedback from customers on an ongoing basis.
Complaints
The "Complaint" chapter of ISO 17025:2005 describes how the customer complaints should be documented, evaluated and adequately followed up to ensure great solutions and future improvements.
A policy and procedure should be in place for the proper resolution of complaints received from customers.

A thorough record of complaints and all the steps taken to resolve them should be maintained properly, which includes documentation of corrective actions and investigations.
Control of Nonconforming Testing and/or Calibration Work
This chapter will describe the nonconforming test and calibration results are properly followed up, the required corrections are initiated.
A policy and process required when results do not conform to procedures.

A list of corrective actions to avoid recurrence.

The evaluation of the significance of nonconforming work.

Customers should be notified if necessary.
Continuous Improvement
The effectiveness of the management system should be continually improved and this chapter describes the following.
Suggestions for improvements should be taken from audit reports, customer complaints and suggestions, analysis of data, management reviews, and corrective and preventive actions.

All the suggestions should be collected over time and reviewed thoroughly by management for suitable actions in time.
Corrective Action
The following chapter of management requirements of ISO 17025:2005 describes how can be the primary cause of nonconforming work or deviations from laboratory and management procedures identified and adequate corrective actions are selected, implemented, documented and monitored.
Corrective actions can be triggered through customer complaints, nonconforming tests, internal or external audits, observations by staff and management reviews.

Corrective action should be selected and implemented to eliminate specific problems and prevent the recurrence of the same.

The primary cause of nonconformity should be identified.

The effectiveness and results of corrective actions should be monitored and evaluated.
The final revision of ISO 17025 2017 requirements can be read here.