ISO 22000 Food Safety Standard Transition Period
November 6, 2019
2023-10-23 12:51
ISO 22000 Food Safety Standard Transition Period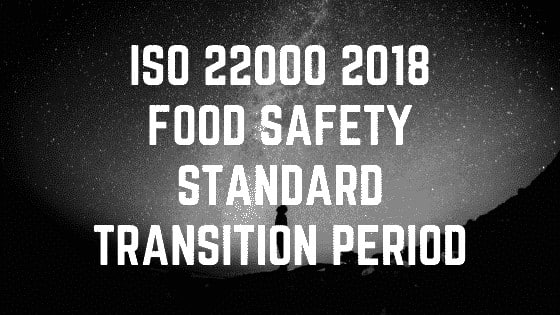 ISO 22000 Food Safety Standard Transition Period
Understanding transition, and preparing for certification could be daunting. Your organization can simplify these by learning important details about the new requirements of ISO 22000 2018.
In this article, QSE Academy explains the changes that result in the publication of ISO 22000:2018.
What are the Main Changes in ISO 22000:2018?
The new version of ISO 22000 now adheres to the common ISO framework for management system standards. This includes a unified High-Level Structure (HLS).
To be more compatible with other ISO management standards, ISO 22000:2018 now uses common texts and terminology.
Moreover, the revised standard has added new particular requirements that will change some aspects of your company's management system.
What Should Your Organization Do to Comply with the New Standard?
First, your company must resolve any findings or non-compliance found during your ISO 22000:2005 certification.
Afterward, examine and comprehend the revised standard's requirements. By doing so, you can analyze and identify any management gaps concerning the requirements.
Your organization must also develop a transition plan to implement changes or the requirements of the management system.
Make sure to inform and train all interested parties that may affect the effectiveness of the Food Safety Management System (FSMS).
Finally, your company must agree with the certification body's transition plan.
How Can an Organization Minimize Costs During Certification?
This all boils down to organizing the transition with your certification body.
Since the publication of ISO 22000:2018 on 18 June 2018, the International Accreditation Forum (IAF) has set three years as a transition period.
Hence, all ISO 22000:2005 certifications will become invalid after the transition period's end on 21 June 2021.
Simply put, you must ensure the transition and compliance of your FSMS to the new version is done within three years.
This also means your company must guarantee the assessment of the system's effective implementation, three years after the revised standard's publication.
To reduce time and costs, conduct a transition assessment during the yearly surveillance audit or recertification audit.
In addition, it would be better to create a new contract with your certification body. If your organization is under surveillance or certification renewal, you could also update the current contract.
The transition from the 2005 version to the revised standard can be accomplished in a single visit. Another day will evaluate the implementation's changes and effectiveness.
Note that if your ISO 22000:2005 certificate expires before you could transition to the 2018 version, you may re-register to ISO 22000:2005.
ISO 22000 Transition Audits
As mentioned earlier, there are two ways to shift to ISO 22000:2018 that will minimize costs.
A recertification audit is a recommendable path to transitioning to ISO 22000:2018.
In this way, a two-stage-staged ISO 22000 audit will replace your regular certification audit.
Stage one is the readiness review while the second stage is the system audit.
Once your company completes a successful audit, you will obtain an ISO 22000:2018 certificate, which is valid for three years.
In some circumstances, organizations may apply for a transition to ISO 22000:2018 during a regular surveillance audit.
Are You Ready to Transition?
Once you've successfully finished an audit, your company will get an ISO 22000:2018 certificate.
If you fail the transition audit, there's a chance for your organization to secure the old version's certificate, which would have a reduced duration.
But, we want your company to level up. This is why QSE Academy has prepared toolkits, packages, and consultations to help you comply with ISO 22000:2018.
We don't want you to settle to the old version. Let QSE Academy assist you in improving your company's management systems.