ISO 14001:2015 : Do Organizations Need to Hire a Consultant ?
June 24, 2019
2023-03-28 4:00
ISO 14001:2015 : Do Organizations Need to Hire a Consultant ?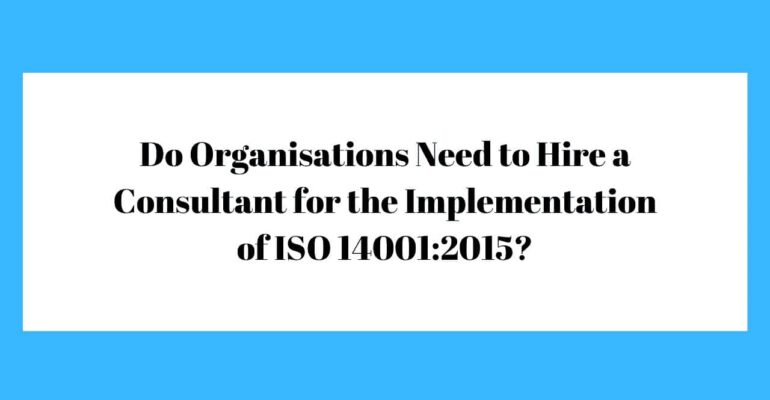 ISO 14001:2015 : Do Organizations Need to Hire a Consultant ?
Benefits and Downsides of Contracting a Consultant
The rewards of implementing ISO 14001:2015 come at a cost.
Your organization's top management might be considering hiring a consultant for ISO 14001:2015, which would add up to the cost of implementation.
However, there are several other options for the effective implementation and maintenance of an Environmental Management System (EMS).
Yes, your organization will benefit from contracting an ISO 14001:2015 consultant. But if this isn't an option, QSE Academy prepared alternatives for you.
Why Should Your Organization Hire an ISO 14001:2015 Consultant?
We're sure your organization has researched and read up everything there is about ISO 14001:2015.
QSE Academy also provided articles at your disposal.
But nothing beats advanced knowledge and total comprehension.
Likewise, understanding all requirements of the standard is the key to effective compliance and implementation.
This is where ISO 14001:2015 consultants come in. Consultants save you time in implementing by sharing their expertise.
Gaining significant information about EMS can be done by hiring a consultant, who is knowledgeable about the ISO 14001 clauses, structure, and requirements.
Hence, your organization must carefully consider the following factors when choosing the most suitable option in implementing the standard.
Time and Productivity
While your organization can decide on implementing the standard alone, seeking assistance from an ISO 14001 expert is a proven way of becoming certified quickly.
Therefore, getting an ISO 14001 consultant means improved productivity in the implementation because your organization gets the expected results within an agreed time.
Moreover, your employees won't have to juggle their time in doing their responsibilities and learning the standard.
Knowledge, Skills, and Expertise
There are skills and knowledge needed for the implementation of ISO 14001 that aren't available in your organization.
Hiring an external consultant will:
Advise your organization during the different phases of the implementation;
Provide outside perspective to improve organizational processes;
Train employees;
Develop essential documentation.
Unfortunately, this knowledge will leave the organization once the consultant ends his or her contract.
Consequently, your organization might opt to hire consultants again to pass a surveillance audit or preserve the EMS.
What Are the Drawbacks of Getting an ISO 14001 Expert?
Seeking external help in conducting ISO 14001:2015 implementation could have the following disadvantages:
Lack of Operational Knowledge
Since a consultant is an external or third-party aid, certain cultural and operational information about your organization could be left out.
As a result, you would have to spend time explaining processes, policies, and activities to your hired consultant. Subsequently, this impacts your organization's workflow.
Additional Costs
Some organizations can afford to hire an independent consultant because:
It can avoid difficulties during the different implementation stages;
There's no need to train their employees;
Alternatives don't have to be considered.
While this is particularly true, many small and medium-sized organizations don't have the budget for this kind of investment.
Quality and Communication
There are several ISO 14001 consultants you can contact, but not all experts can help your organization in successfully implementing the standard.
Because of this, QSE Academy suggests checking your desired consultant's expertise in implementing ISO 14001. You could also review whether they are suitable for your sector or industry.
To assure quality, your organization must have good communication with the consultant. In this way, you assure us that the activities are done within the agreed timeframes and deliverables.
Confidentiality
An external expert would learn everything about your organization—processes, activities, and weaknesses.
Generally, this makes your organization vulnerable and the consultant a threat.
Nevertheless, you can prevent risking valuable information by assessing a consultant's professional background.
Your organization could also consider signing a non-disclosure agreement (NDA) to protect classified information.
What Are Alternatives to Getting a Consultant?
Fortunately, other solutions won't require excessive amounts of money but will deliver the same results.
          If contracting a third-party expert isn't your cup of tea, doing everything remains an apt approach.
Your organization's top management and employees can team up to facilitate the needed resources. For example, you can train employees and read more about the standard using expert literature.
There are online consulting firms you can lean on in implementing the standard. For instance, QSE Academy provides one-on-one consulting sessions. We also have toolkits that provide checklists, templates, and guided steps.
Get Documentation Templates
About option number 2, you can get documentation templates from firms such as QSE Academy. Most consultancy firms also offer expert online support to help you comply with ISO 14001.
Should My Organisation Contract an Expert Now?
It depends on your organization's needs and situation.
When you don't hire a consultant, you will save money while gaining knowledge about ISO 14001:2015.
However, this would mean your employees would need to give time in carrying out the implementation phases, but they become engaged in the overall process.
Remember that hiring a consultant means the expert is bounded by a contractual agreement to complete the project within an agreed timeframe, and for a specific amount of compensation.
But should you consider an alternative?  QSE Academy prepared toolkits for your convenience You also gain online consulting sessions as a bonus.