QMS: Enrich Your Business with the Best Quality
January 7, 2021
2021-11-13 5:28
QMS: Enrich Your Business with the Best Quality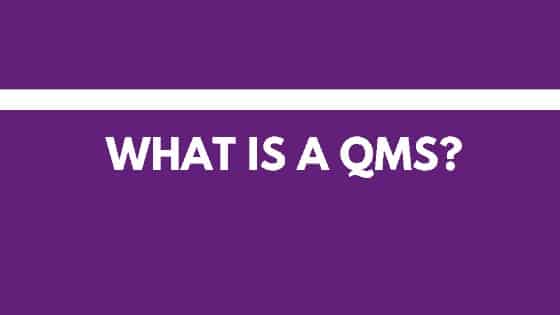 QMS: Enrich Your Business with the Best Quality
The Quality Management System (QMS) is a way to achieve an efficient and effective approach to quality management by using a combination of quality management tools and methodologies.
The QMS begins with the development of a quality management policy that determines how the organization will achieve quality objectives. The policy establishes the general methods that will be used throughout the organization, including customer satisfaction, identification and control of the nonconforming product,s and continuous improvement. A quality policy includes procedures for improving the quality within each area of responsibility. The next step in establishing an effective QMS is to train all employees on its concepts and role in achieving goals.
To ensure commitments are met by those responsible for monitoring its implementation the organization should use performance evaluation procedures in order to assess employee's skills in identifying and solving problems, using feedback systems to help them make improvements, setting priorities, and encouraging involvement by individuals at all levels of the company. The commitment to an effective QMS includes a continual effort by all employees which can be accomplished through problem-solving techniques such as six sigma or variance reduction techniques employing statistical process control (SPC) tools such as control charts (See Quality Management System Tools).
The fundamental question of QMS is the relationship between management, quality, and quality assurance. In order to do so, an understanding of the entire quality management process is imperative.
Quality management within an organization is a continuous process that includes all acts of thinking and behavior contributing to the achievement of customer satisfaction and corporate objectives. Quality begins with setting specific goals for the achievement of customer satisfaction in processes, products, or services at all levels of responsibility.
The QMS provides continuous control of all processes involving personnel, equipment, technology, and all other resources used to produce goods or deliver services. The QMS ensures that each level in the organization is systematically working toward achieving planned results that will benefit customers as well as the organization itself.
In order to establish an effective QMS auditing practices must be integrated with satisfaction survey practices as well as quality planning initiatives. Doing so will result in better-designed procedures that will achieve customer satisfaction through improved delivery times, lower costs, increased revenue, more efficient processes, increased productivity, etc.
Tips to establish an effective QMS

:

An audit is a way of assessing the QMS to find any problems and to improve them. It is performed with measurement tools in order to assess the level of effectiveness of the QMS. The assessment methods that are necessary for testing include control charts, statistical process control, statistical techniques for identifying causes and effects (cause-and-effect diagramming), sampling and testing, etc.

In order to conduct an effective QMS audit, first decisions must be made regarding which part of quality management will be audited, what kind of data will be collected as well as how the data will be analyzed. The most common type of test used in an organization would be statistical process control. SPC is a tool that allows an organization to monitor a quality characteristic over time with the goal of improving processes or reducing variation Overlap between several SPC's can often lead to more accurate prediction models for future data (See Statistical Process Control – Tools).
Quality Management System and ISO 9001: 2015 standard
QMS can be an advantage to a company if they are in line with ISO 9001:2015 standards and their implementation contributes to the achievement of the goals stated in ISO 9001:2015. In order to achieve a high level of quality, it is important that the company is considering performance management techniques such as Six Sigma. The process of undergoing an audit means that the company is free from mistakes since error-reduction techniques are used to evaluate processes. The QMS implementation is a very important factor since it reduces the risk of errors in the supply chain.
Should your QMS be certified ISO 9001 2015?
A QMS audit should be performed and the areas that need improvement should be identified. ISO 9001 2015 can provide the company with advice on how to improve their QMS. If a company chooses not to have their quality system ISO certified, it is still important that they undergo an audit with an unbiased third party so that they may improve their system and avoid mistakes. This will also help them to maintain high-quality products and services for their customers, ensuring good customer satisfaction.
The following are tools used in the quality process:
Quality audit – A verification of an organization's QMS through the gathering of data using various measurement tools such as control charts, statistical process control (SPC), statistical techniques for identifying causes and effects (cause-and-effect diagramming) sampling and testing, etc. Audits are performed by people who are independent of production as well as other employees within the organization in order to avoid conflicts of interest or personal bias.
Control chart – A statistical tool used to monitor process stability through the use of control limits, which are the upper and lower boundaries that define an acceptable range of variation for a given process. Control charts are often used to monitor either attributes or variables, as well as being classified as x-bar and R-charts, depending on whether the data being collected is based on averages or individual values.
Cause-and-effect diagram – A simple diagram that shows possible causes of errors or defects against effects observed in a process. The diagram also shows possible corrective actions, which can be taken to solve problems efficiently.
FMEA (failure mode and effects analysis) – FMEA is a tool that is used to identify and minimize the risk associated with failures of elements in a system. Such elements include components, processes, procedures, and systems throughout the supply chain needed for producing services or products. Failure modes are potential ways in which an element could fail while effects refer to undesirable outcomes such as costs incurred due to damage caused by failure. Therefore, FMEA can be used in order to minimize risks by focusing on the weakest links in the supply chain, providing a proactive approach to business management.
Gap Analysis – Gap analysis is a tool that is used to compare requirements with actual performance to determine the difference between two things. This process is often used before an audit in order to create a map of problem areas and give some idea of their severity.
Pareto diagram – A graph that lists causes of problems or defects against their effects and shows the relative impact of each factor on total costs or a number of defects arising from a certain cause. This tool can be helpful in deciding which problems are worth addressing first.
Statistical quality control (SQC) – A set of techniques that allows for estimation and prediction as well as identification, documentation, and correction of errors or defects present in processes. SQC methods include control charts such as x-bar and R-charts as well as other statistical methods for identifying causes such as ANOVA and regression analysis. This method is usually applied at every level within an organization, from production through service delivery while being backed up by appropriate training for all staff involved.
In conclusion, QMS can be an advantage to a company if they are in line with ISO 9001: 2015 standards and their implementation contribute to the achievement of the goals stated in ISO 9001:2015.