ISO/IEC 17025 Accreditation For Food testing Laboratories
July 19, 2019
2023-03-28 7:36
ISO/IEC 17025 Accreditation For Food testing Laboratories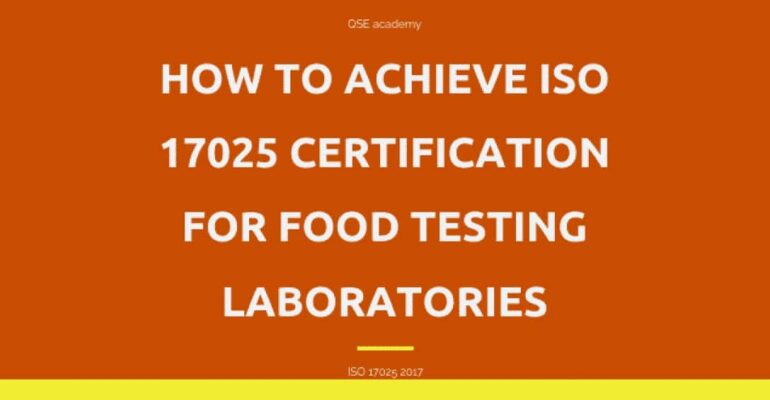 ISO/IEC 17025 Accreditation For Food testing Laboratories
ISO/IEC 17025 accreditation Food testing Laboratories
The ISO/IEC accreditation for Food Testing Laboratories serves as a global proof that your operations comply with ISO/IEC 17025 requirements. This is why your food testing laboratory must gain ISO/IEC 17025 accreditation.
The food testing sector has experienced significant growth and success over the past few years.
Many stakeholders are involved in the process of food manufacturing from farm to fork.
First, manufacturers may get raw materials from nations across the globe. Then, they will process food samples in different facilities or sites. Afterward, the finished products may be exported to a global marketplace.
Hence, keeping track of food safety became an international concern.
The Rise of the Food Safety Testing Market
According to a report published by MarketsandMarkets, last January, the food safety testing market is projected to grow from $17.0 billion in 2018 to $24.6 billion by 2023.
The main reason—a rise in the number of people who suffered from food poisoning across the world. Subsequently, this led to massive health and financial problems.
In the United Kingdom, around 1 million people experience pain from foodborne illnesses, and approximately 500 deaths are reported every year.
Meanwhile, in the United States, over 53,000 cases of illness caused about 2,300 deaths.
Such cases can be accredited to the lack of safety measures in the food testing sector and an upsurge in globalization.
Likewise, situations like these risk health, legal, economic, and financial consequences.
Therefore, it is important to maintain the source and quality of food products.
The Challenge: Why Your Food Testing Laboratory Matters
Local and international food manufacturers rely on food testing facilities to:
make sure the safety of biological components of food they are processing or packaging.

guarantee the purity of chemical aspects of the food that they are processing or packaging.
There's a surge in the number of food samples sent to testing laboratories. As a result, laboratories need to keep up, especially since there are strict regulatory requirements.
Food testing laboratories must follow local food safety rules and regulations.
Aside from customer requirements and regulatory implications, food testing laboratories must comply with the ISO/IEC 17025:2017 accreditation standard.
Why Food Testing Laboratories Need ISO/IEC 17025:2017 accreditation
ISO/IEC 17025:2017 is a global standard that defines a laboratory's technical competence to conduct certain forms of measurement, testing, and calibration.
The standard is an international benchmark to guarantee the reproducibility, accuracy, and precision of analytical results.
Furthermore, laboratories use ISO/IEC 17025 to develop their management system for quality, administrative, and technical operations.
The majority of countries consider ISO/IEC 17025:2017 accreditation compulsory for a testing site to be considered as technically proficient.
Most of the time, accreditation bodies, regulatory authorities, and food processors don't accept test or calibration results from an unaccredited facility.
Thus, ISO/IEC 17025:2017 certification is necessary to improve a laboratory's reputation. It also lessens operational costs while fulfilling statutory guidelines.
Similarly, the certification provides food testing facilities a competitive lead by showing commitment to efficiency and quality.
ISO/IEC 17025 Requirements for Food Testing Laboratories
ISO/IEC 17025 requirements are composed of management and technical requirements.
Management Requirements
Management requirements focus on a laboratory's organizational structure. It covers carefully managing access to sensitive information.
ISO/IEC 17025 wants better importance on complete and accurate record management. This is crucial in tracking food products throughout production and circulation.
Hence, this aspect entails tracking all laboratory staff with a date and time stamp.
The key is to shift to laboratory information management solutions that can remove mundane tasks that use valuable resources.
Technical Requirements
Technical requirements contain comprehensive documentation of numerous aspects that can influence the quality of test results. Such factors may be equipment, sampling, test methods, and environmental conditions.
ISO/IEC 17025 also sees the importance of each analyst's training records.
Also, the technical requirements need efficient management of calibration, as well as maintenance data of laboratory equipment.
This aims to make sure that correctly calibrated equipment can perform the tests, and that test results are dependable.
How Your Laboratory Can Attain ISO/IEC 17025 accreditation 
There are phases your laboratory must accomplish:
Regular audit
Review of the quality system
Maintenance and calibration of instruments
Monitoring of environmental factors
Maintenance of staff and their training records
ISO/IEC 17025 serves as a pillar to any global food testing laboratory to boost its market competency and credibility.
For more information about how your organization can comply with safety requirements, do not hesitate to contact QSE Academy.
We have toolkits that can enable facilities to become ISO/IEC 17025 compliant.