What is a quality assurance specialist?
January 5, 2021
2023-03-28 5:48
What is a quality assurance specialist?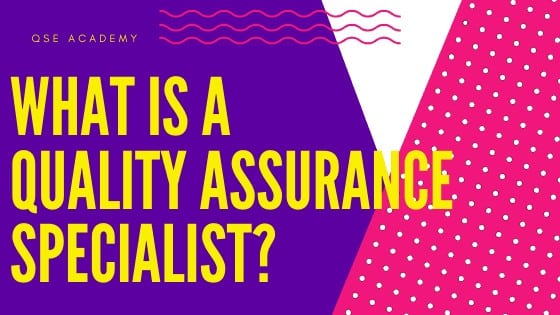 What is a quality assurance specialist?
What is a quality assurance specialist?
Quality assurance specialist is a function in an organization to ensure that quality activities are being performed and there is continuity of control to the standards and procedures. It is generally associated with manufacturing or engineering industries.
Quality assurance is very important in companies because it ensures that the product is being manufactured and handled according to the required standards.
The quality assurance specialist is in charge of ensuring that the company's quality assurance procedures conform to the standard requirements. He or she also helps in maintaining the quality of the company's products. The quality assurance specialist is in charge of ensuring that a product conforms to all requirements outlined in customer contracts. This could mean checking samples from production lines, reviewing manufacturing processes, and training employees in proper handling and care of inventory.
This job requires a great deal of technical knowledge concerning manufacturing processes, quality control procedures, and customer requirements.
A quality assurance specialist has to ensure that the quality of the company's final product is consistent with the standards. This way, the product should meet customer satisfaction. He or she is also in charge of establishing and maintaining quality assurance control standards.
The minimum educational requirement for this job is a bachelor's degree in quality control or industrial engineering. A quality assurance specialist may also have experience in the field, although it isn't necessary. The work setting for this job can be either an office-based environment or a shop floor.
A quality assurance specialist is a person using his skills for achieving an organization's goals. Because of this, they have the advantage of knowing whether the quality standards are in place and that the products are being produced according to these standards, which will result in higher costs for the company. One can also determine if the technician is following the procedure properly.
There are five phases of quality assurance and these include process analysis, implementation, control, evaluation, and improvement.
It is crucial for quality assurance personnel to understand how to analyze requirements and make sure that such processes are not affecting the products negatively.
In terms of process analysis, one should be able to identify defects that have occurred so as not to repeat this in future productions. of high standards by performing inspections, audits, training, and recommending changes. A QA specialist might also coordinate with suppliers or customers to assure quality control standards are being met.
Quality assurance salary ranges from $50k to over $160k.
There are several courses and training needed to become a QA specialist. This training could include computer-related courses as well as career planning.
Most companies require their employees to complete a certain amount of quality assurance classes and training in order to become a QA specialist.
They also hold seminars to teach employees about new products and services, business practices, and the quality assurance process.
The most important skills for quality assurance specialist are:
1. Effective communication in a team setting
2. Understand customer requirements
3. Analytical skills to find effective solutions and fixes
4. Good planning and organization
5. Good documentation skills
6. Good business sense and team-building skills
7. Ability to meet tight deadlines, manage multiple tasks simultaneously
8. Excellent customer service skills
9. Ability to work well under pressure
10. Strong communication skills with internal and external customers, internal team members, vendors, etc.
It is very important also for QA specialists in white-collar jobs to have the important following soft skills :
1. Establishing priorities and being on the front line with customers.
2. Interacting with customers to know the needs of their products and services.
3. Strong customer service skills to understand the needs of the end customers, be it internal or external.
4. Good problem-solving skills to resolve problems effectively in a fast time frame
5. Understanding of different industries and business practices from other services like sales, IT, marketing, etc.
6. At the same time understanding the specific business practices of industries, which they are supporting.
7. Ability to work on multiple tasks simultaneously and meet tight deadlines
8. Excellent decision-making skills, problem-solving abilities, and analytical skills
9. Strong interpersonal skills to interact with different stakeholders in the business effectively and efficiently.
In conclusion, there are lots of career opportunities in the area of quality assurance and although this is a good career choice, there are also some negatives. The most important ones are to have enough knowledge about business practices, especially when working with external vendors or customers.
Another negative factor is that quality assurance specialists need to know how to work on several things at the same time as well as meet tight deadlines. This is not easy and requires a lot of motivation.
Another important thing is that quality assurance specialists must have good communication skills when dealing with customers and clients and they must be able to prioritize their tasks accordingly to meet deadlines and requirements from the business stakeholders in an effective way.