Overview of Asean cosmetic regulations
October 19, 2019
2023-03-28 6:45
Overview of Asean cosmetic regulations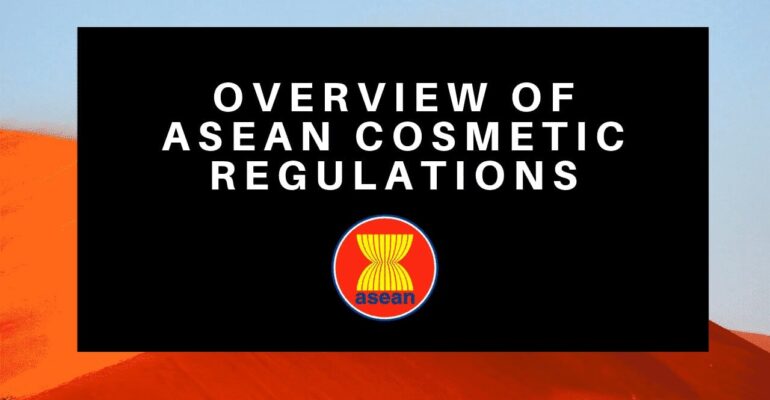 Overview of Asean cosmetic regulations
The regional group known as the Association of Southeast Asian Nations (ASEAN) consists of ten countries in South Asia, and these are;
Vietnam
Thailand
Singapore
Philippines
Myanmar
Malaysia
Laos
Indonesia
Cambodia
Brunei
ASEAN, since its inception, has been working towards developing a region that is economically competitive through expertise, knowledge, sharing of information, and cooperation. Moreover, it created the Asean Economic Community (AEC) in 2015, which was mandated with facilitating trade between these nations, establishing a common market and between the ASEAN bloc and other regional jurisdictions and countries.
The functions of Asean differ slightly from that of the EU. This is because legislation it makes have bind effect but lack enforcement power until one of the member countries approves and then implements a specific legislation item as part of its national laws.
Cosmetic framework
To harmonize the regulations across all its member nations in the cosmetic industry, the ASEAN Committee on Standards and Quality (ACCSQ) created the ASEAN Cosmetic Committee (ACC) working group to govern this sector. Together with the ASEAN Scientific Cosmetic Body (ASCB), this group held meetings through the year to exchange information and then come to an agreement on a harmonization framework.
The ASEAN Cosmetic Directive (ACD) is a framework that was initially published in 2008 to address several issues relating to the import, manufacture as well as sale of cosmetic products. This agreement has been amended several times based on agreements made by member countries through the ASCB meetings.
The core of ACD borrows numerous features from the regulatory framework of the EU, with the most notable being the several ingredient lists from the Cosmetic Products regulations (CPR). However, the ACD, unlike the CPR, is usually not applicable directly in the member nations. Whereas the implementation of the changes to the ACD was agreed among all member states, the variation in its execution may create uneven enforcement and regulatory framework across the different jurisdictions.
Definition of cosmetic products
The definition for 'cosmetic' product according to the ACD is identical to that found in CPR, that is,
"any substance or preparation intended to be placed in contact with the various external parts of the human body (epidermis, hair system, nails, lips and external genital organs) or with teeth and the mucous membranes of the oral cavity with a view of exclusively or mainly to cleaning them, perfuming them, changing their appearance and or correcting body odors and/or protecting them or keeping them in good condition."
ACD's Annex I offers these types of products usually considered as cosmetic products, these are;
Face masks except for chemical peeling products

Emulsions, creams, gels, lotions, and oils for the skin such as faces, hands, and feet

Tinted bases such as powders, pastes, and liquids

Deodorant soaps and toilet soaps

After-bath powders, hygiene powders, and make-up powders

Depilatories

Shower and bath preparations including foams, slats, gels, and oils

Toilet waters, perfumes, and Eaux de cologne

Setting products

Antiperspirants and deodorants

Haircare products

Products for straightening, fixing and waving

Bleaches and hair tints

Hairdressing products (lacquers, brilliantine, and lotions)

Products meant for lips application

Shaving products for instance foams, lotions, and creams

Conditioning products (oils, lotions, and creams)

Bleaches and hair tints

Products for make-up and nail care

Products for mouth and teeth care

Products for make-up application as well as removing it from the eyes and face

Cleansing products (Shampoos, powders, and lotions)

Anti-wrinkle products

Sunbathing products

Products for external intimate hygiene

Products for tanning without the sun; and

Skin-whitening products
Ingredient lists
Included in ACD are several items that are either prohibited, restricted, or permitted to use in numerous cosmetic products. These lists can be found in numerous annexes of ACD including;
Annex II, part 1: Substances that must not be part of the cosmetic products composition

Annex III, part 1: Substances that must never be contained in cosmetic products, but are subject to conditions and restrictions

Annex IV, part 1: Coloring agents which are permitted for use in cosmetic products

Annex VI: allowed preservatives, and

Annex VII: allowed UV filters
Contaminants
All cosmetic products sold within the Asean region are required not to contain arsenic, lead, or mercury, except for unavoidable impurity. When tested for impurities by the ASEAN Cosmetic Method (ACM), they should not exceed the following limits;
Mercury; not more than 1mg/L or 1mg/kg (1 ppm)

Lead; not more than 20mg/L or 20mg/kg (20 ppm)

Arsenic; not more than 5mg/L or 5mg/kg (5 ppm)
Cadmium is also subjected to these restrictions not exceeding 5mg/L or 5mg/kg (5 pp). In Thailand, this restriction is even sterner at 3mg/L or 3mg/kg (3 ppm).
Any product to be used by children below the age of three years or for use around the mucous membranes or eyes should surpass a total of 500 colony forming units (CFU)/g to avoid biological contamination.
This limit is usually 1,000 CFU/g for other commodities. Additionally, every product should test negative per 0.1 ml or 0.1 g test sample for S. aureus, C. Albicans, and P. aeruginosa. Consult the "ASEAN Guidelines on Limits of Contaminants for Cosmetics" for additional information.
Labeling requirements
Apart from the annexes, as mentioned earlier, ACD also contains several appendixes that offer additional rules and guidance, which includes labeling. Appendix II states the requirements for cosmetic labeling as well as establishes the baseline on the labeling of cosmetic products. This is, however, subject to additional conditions by individual nations.
The following must be included in all the products which are sold in the ASEAN market;
Name of the cosmetic product as well as its function
Instructions on how to use it
A comprehensive ingredient listing (in descending order of weight at the time it was added)
Country of manufacture
Batch number
Expiry date
Special precautions; and
Name and address of the body that supplies it on the domestic market
ACD usually concedes to other global references when it comes to cosmetic ingredient names, including;
British Pharmacopoeia

Cas

International Nomenclature of Cosmetic Ingredients (INCI); and

US Pharmacopoeia
Manufacturers, importers, and cosmetic brand owners must consult Appendix II and the provisions of member states to confirm the labels comply with the set prerequisites of the specific nation where the commodity will be marketed.
Sunscreen commodities or any statement to have such attributes must contain further labeling statements. Some of these statements apply only to specific products, whereas others apply to all commodities. For additional information on this, check the Annex VII list or accepted UV filters as well as "ASEAN Guidelines on Sunscreen Labelling."
Product Claims
Contained in Appendix III of the ACD are procedures for making product claims. These requirements which must be stated explicitly include;
'Cosmetic products must not be presented as preventing or treating an infection in human beings' or

'Products that are meant to be injected, ingested or put into contact with other human body parts, for instance, the internal genitalia or the mucous membranes of the nasal passage, are usually not considered as cosmetic commodities.'
Whereas Appendix III is not thorough, it does include numerous examples of intolerable claims. Likewise, any product that claims to contain UV properties or sunscreen must include appropriate labeling statements.
Product registration
The 'Agreement on the ASEAN harmonized cosmetic regulatory scheme' states that ASEAN member nations agreed to mutually recognize the approval of cosmetic commodities issued by the regulatory authorities of member states. Recognition usually refers to the
"use of a certificate of commodity registered according to the agree upon, as a foundation for regulatory actions including approvals or re-issue of product registration approvals."
On the ground, importers, manufacturers, and cosmetic brand owners are expended to follow the set procedures of particular member states for commodity registration and notification. Because of this, Appendix IV of the ACD is nowadays void since each state has implemented its sale and import requirements.
Safety assessment
Notification must be sent to the relevant authorities of every member state for the majority of the cosmetic commodities. ASEAN has gone ahead to issue states with the "Guidelines for the safety assessment of a cosmetic product," as well as the uniform standard for the commodity information file (Pif) that needs to be submitted as a piece of the notification.
ASEAN holds no formal stance on animal testing; thus, each member state is mandated with setting its policies regarding this. Furthermore, found in Appendix VI of the ACD is the "Guidelines for cosmetic good manufacturing practices" that include ways to guarantee commodities are safely and consistently controlled and manufactured.