FSSC 22000 V5.1 Implementation Stories: The Good, the Bad, and the Unexpected
March 28, 2023
2023-03-28 9:07
FSSC 22000 V5.1 Implementation Stories: The Good, the Bad, and the Unexpected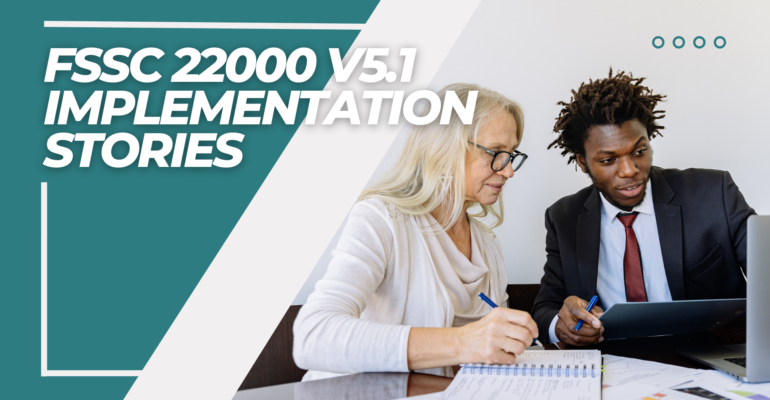 FSSC 22000 V5.1 Implementation Stories: The Good, the Bad, and the Unexpected
As an ISO food safety consultant with 15 years of experience, I've witnessed numerous FSSC 22000 V5.1 implementation journeys. In this blog post, I'll share three real-world stories from American companies that perfectly illustrate the good, the bad, and the unexpected aspects of FSSC 22000 implementation. Get ready to dive into the world of food safety certification and discover valuable insights from these unique experiences.
The Good: A Success Story in the Dairy Industry
Meet Dairy Delights, a medium-sized dairy processing company based in Wisconsin. After careful consideration, the company's management team decided to pursue FSSC 22000 V5.1 certification to demonstrate their commitment to food safety and quality.
Dairy Delights approached the implementation process with a systematic and well-planned strategy. They started by conducting a thorough gap analysis to identify areas requiring improvement. The management team then developed a comprehensive action plan, outlining the necessary steps to address the identified gaps.
The company's commitment to employee training and involvement played a significant role in the successful implementation of FSSC 22000 V5.1. Dairy Delights established a robust food safety culture, empowering every team member to take ownership of food safety practices. This collaborative approach allowed the company to smoothly transition to the new standard and ultimately achieve certification.
The Bad: Challenges Faced by a Snack Manufacturer
Next, let's discuss Snacktastic, a snack manufacturing company based in California. Snacktastic's FSSC 22000 V5.1 implementation journey was fraught with challenges, mostly due to a lack of preparation and inadequate resources.
Snacktastic's management team failed to allocate sufficient time and resources for the implementation process. As a result, the company struggled to adapt to the requirements of the FSSC 22000 V5.1 standard. Employees received minimal training and guidance, leading to confusion and resistance to change.
Moreover, Snacktastic's existing food safety management system was fragmented and poorly documented. The company found it challenging to integrate the new standard's requirements into their daily operations.
Snacktastic's experience serves as a cautionary tale, highlighting the importance of thorough preparation, resource allocation, and employee involvement in successful FSSC 22000 V5.1 implementation.
The Unexpected: A Poultry Processor's Bumpy Road to Certification
Lastly, let's explore the story of Poultry Pros, a large poultry processing company in Texas. While Poultry Pros ultimately achieved FSSC 22000 V5.1 certification, their journey was marked by unexpected obstacles and required significant course correction.
Poultry Pros began their implementation process with enthusiasm and determination. However, they encountered unforeseen challenges, such as a critical supplier's reluctance to comply with the new food safety requirements. This issue forced Poultry Pros to reevaluate their supply chain and seek alternative suppliers, causing delays and additional costs.
Additionally, Poultry Pros discovered gaps in their traceability system, requiring substantial investments in technology and process improvements. The company's management team demonstrated flexibility and adaptability, making necessary adjustments to overcome these challenges and successfully achieve FSSC 22000 V5.1 certification.
FSSC 22000 Other Keys to Implementation Process
In addition to the lessons learned from these real-world stories, it's essential to understand some key aspects of the FSSC 22000 V5.1 standard that can help ensure a smoother implementation process.
Risk-Based Approach
One of the critical features of FSSC 22000 V5.1 is its risk-based approach. This means that the standard focuses on identifying and addressing potential hazards and risks throughout the entire food supply chain. As an organization implementing this standard, you should prioritize risk assessment and management to address food safety concerns proactively.
Leadership and Commitment
Management commitment and leadership play a crucial role in the success of your FSSC 22000 V5.1 implementation. The standard requires top management to demonstrate their support for the food safety management system (FSMS) by establishing clear food safety policies, setting objectives, and allocating necessary resources. A strong leadership team will drive the company culture towards a greater emphasis on food safety.
Supply Chain Management
FSSC 22000 V5.1 places a strong emphasis on supply chain management. It requires organizations to evaluate and manage food safety risks and hazards not only within their operations but also throughout their supply chain. This includes working closely with suppliers to ensure they comply with the same food safety requirements, as well as establishing effective traceability systems.
Documentation and Record-Keeping
Proper documentation and record-keeping are essential components of an effective FSMS. FSSC 22000 V5.1 requires organizations to maintain accurate and up-to-date documentation, including procedures, work instructions, and records of monitoring and verification activities. This ensures that your organization can provide evidence of compliance with the standard during audits and demonstrate your commitment to food safety.
Internal and External Audits
FSSC 22000 V5.1 requires organizations to conduct both internal and external audits to evaluate the effectiveness of their food safety management system. Internal audits are carried out by your organization's trained personnel, while external audits are conducted by independent certification bodies. These audits provide valuable insights into your system's strengths and weaknesses, allowing you to identify areas for improvement and ensure ongoing compliance with the standard.
Global Recognition and Market Access
FSSC 22000 V5.1 certification has gained widespread acceptance across the global food industry, with many major retailers and food service providers recognizing it as a credible food safety standard. By achieving FSSC 22000 V5.1 certification, your organization can gain access to new markets, enhance customer confidence, and differentiate itself from competitors.
Legal Compliance
FSSC 22000 V5.1 helps organizations stay compliant with relevant food safety regulations in their region. The standard requires organizations to monitor and stay up-to-date with changes in applicable legislation, ensuring that your food safety management system remains compliant with the latest requirements.
Employee Empowerment and Motivation
When implementing FSSC 22000 V5.1, involving employees at all levels of your organization is essential. This not only ensures that they understand their role in maintaining food safety but also helps create a sense of ownership and responsibility among team members. Encourage open communication, provide training opportunities, and celebrate successes to foster a positive food safety culture.
Business Benefits
Beyond regulatory compliance and market access, FSSC 22000 V5.1 certification offers several tangible business benefits. By adopting a systematic approach to food safety management, your organization can achieve greater operational efficiency, reduce waste, and improve overall product quality. Moreover, this certification can enhance your brand reputation, leading to increased customer loyalty and potential growth opportunities.
In conclusion, the FSSC 22000 V5.1 standard offers a comprehensive framework for organizations to manage and improve their food safety practices. By learning from the experiences of others and understanding the key aspects of this standard, you can pave the way for a successful implementation journey.
If you're ready to embark on your FSSC 22000 V5.1 journey and require assistance with ISO documentation preparation services, feel free to reach out to QSE Academy. With my extensive experience in the field, I can provide you with the guidance and support needed to achieve certification success.
Before you go, don't forget to leave a comment below, sharing your thoughts and experiences with FSSC 22000 implementation. Let's work together to continually improve food safety practices and make a positive impact on the industry as a whole!